Quoting HSM lyrics, oh yeah, I went there.
I've been looking around for a new bathing suit lately seeing as summer is coming up soon. No, it's not really soon. I think I'm just fooling myself into beleiving it is. School, be done already! Usually by the time I find a suit I like, summer's half way over. Oh yeah, I'm getting a head start this year.
I really want to find the perfect retro swimsuit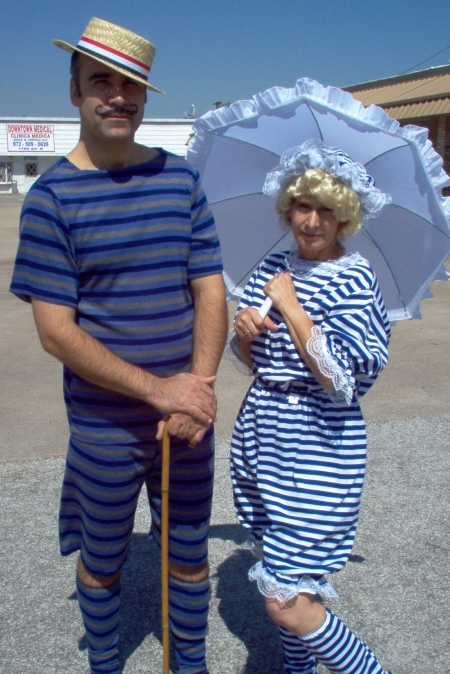 Errrm, okay not that retro.
I'm thinking a cute little pin-up number, something in the 40's or 50's style. I love rockabilly swimwear, it's so adorable and I like that it's not too skimpy. Really, do I need a tiny swimsuit after a whole winter of sitting inside? The answer is no.
I think I could pull off a two-piece, but I want one with high waisted bottoms. All the better to disguise the tum-tum...
1)
Stepanka - Etsy
2)
Baby Girl Boutique
3)
My Baby Jo
4)
Baby Girl Boutique
A onesie would be ideal, I love the cut of these:
1)
Delias
2)
My Baby Jo
3)
BettieB - Etsy
4)
Baby Girl Boutique
5)
Delias
A printed onesie would be cute, although this would probably be the only time I would go for polka-dots
1)
Delias
2)
My Baby Jo
3)
Baby Girl Boutique
4)
Fables by Barrie - Etsy
5)
Miss Braches - Etsy
6)
Pin-up Girl Clothing

A trend that I'll never be over: Nautical. I love these cute little sailor swimsuits. I want them all!

Who knew swimsuit shopping could be so fun?! Definately less agonizing when you're not actually trying them on. Thank God for the internet!

(Picture 1 from here)