I know, it's horrible how long its been between posts. I'm not sure what to post, as my outfits pretty much consist of black jeans and a t-shirt every day. At the moment, fashion has been... taking the back seat (ah, I know, it's too horrible to even type) as I've been working here in London and FINALLY found a place to stay and have generally just been trying to survive.
To clear up any confusion, or for anyone who doesn't know, I normally live in Canada but I'm in London, England for the summer just working and exploring this great country.

Anywho, I had the day off on Wednesday and I was DYIINNNG to see a movie. I rent movies/go to the theatre at least once a week back home, so I was suffering from withdrawl after 2 weeks and no movies.

I read in i-D about a movie called Låt den rätte komma in , or "Let the right one in" and saw it was playing at one of the theatres here. I hadn't seen the trailer or anything, but it sounded interesting so I took the tube over and paid a ridiculous 13 pounds for admission to a movie I knew next to nothing about.

I've only just watched the trailer now, but I don't feel it does the film justice. This movie was unFRIKINbeleivable. SO, so beautiful. I don't want to label it a "vampire movie", but basically it's about a 12 year old boy who makes friends with a girl who lives off of blood.... i.e. a vampire. I've got to say that this is one of the best movies I've seen all year, it was just so visually beautiful and the characters are what made the movie so good. Of course, the sure fire way to ruin a good movie is to make a Hollywood remake, which is already "in the the works". So make sure you see the Swedish original before any other versions come out, you WON'T be dissapointed.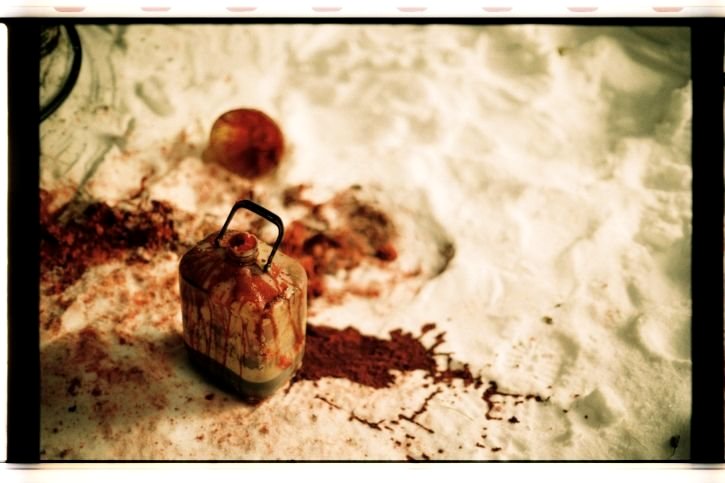 Obvz I can't see any movie without taking note of the clothes. The wardrobe of the cast consists of snuggly knitted sweaters, and the hetfy layering you'd expect to see on Stolkholm street style sites today, although the movie was supposed to be set in 1982. I'm pretty sure Oskar is my new style idol, with his bleach white bowl cut and amazing jumpers. The whole time I was just imagining different looks that I could steal directly from him. The colours of the film were just beautiful, it's surprising how effective colour can be with setting the mood or tone of a story, no?
all pictures from here
P.S. - This song is dangerous, it's been stuck in my head for litterally a solid week. Along with "Buisness time" and "Goodbye, leggy blonde". You have been warned.
P.P.S - These desserts are also dangerous. I've already tried two kinds and I'm looking for more. DON'T go to the website if you are hungry right now! You've been warned.... again.